Plan a Date in Canton
Canton is for the lovers! Planning the perfect date can be a challenge, so let us help you out. Use this itinerary as a guide to help you plan the perfect all-day date in Canton. 

Coffee Date at Giv Coffee
Head over to Giv Coffee for a coffee and something sweet before you embark on your all-day adventure. With a stylish yet cozy ambiance, Giv Coffee is an intimate space that is the perfect spot for conversation over coffee. 

Grab Reinforcements at Little Oak Cafe
Your next stop will be a hike on one of the trails part of Canton Land Conservation Trust, so you'll need to grab some sustenance for the journey. Stop by Little Oak Cafe, an eclectic cafe and pack your picnic basket with a wide variety of their grab & go meals: including sandwiches, paninis, salads and wood-fired pizza. 

Hike Sweetheart Mountain
There's no better place to bring that special someone to than Sweetheart Mountain — with picturesque, birds-eye views of Canton, this 1-mile loop is a beautiful and romantic spot to enjoy a picnic lunch with your date.

Visit Full Moonshine Distillery
The best chaser to a good hike is a mason jar of homemade moonshine — just be sure you don't drink all of it or you won't make it to dinner! The Full Moonshine Distillery tasting room is open from 12-5PM on Sundays and is a great spot to enjoy an afternoon drink. 
Take a Sunset Stroll Through Collinsville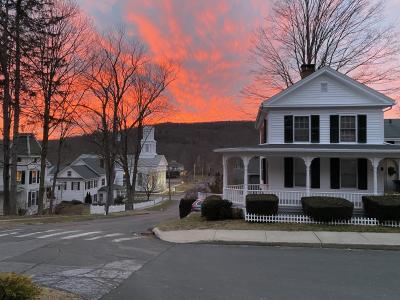 Collinsville is full of history and charm! There is nothing more romantic than a sunset stroll through its beautiful Main Street. If you're interested in a longer walk or drive through the area, check out the already-mapped out walking & driving tours available. 

Dinner at Buon Appetito or Saybrook Fish House 
Enjoy a romantic evening at one of Canton's finest restaurants. For traditional, fine Italian dining, make reservations at Buon Appetito for delicious, garlicky Italian favorites. If you're craving fresh seafood, the Saybrook Fish House is the perfect option. Menu highlights include crab cakes, lobster rolls, shrimp scampi and more. 
See a Show at Farmington Valley Stage
What's dinner without a show to follow? The Farmington Valley Stage has a full 2022 schedule of plays and musicals to see. The perfect finale for your date will be an awesome evening full of entertainment!