There's so much to discover and experience in Canton, from local trails and parks to family-friendly activities and arts. Whether you're visiting for the first time or a long-time resident looking for something new to do this summer, we've got you covered. This is your ultimate guide to summer activities and fun in Canton.
Get Outside and Explore the Outdoors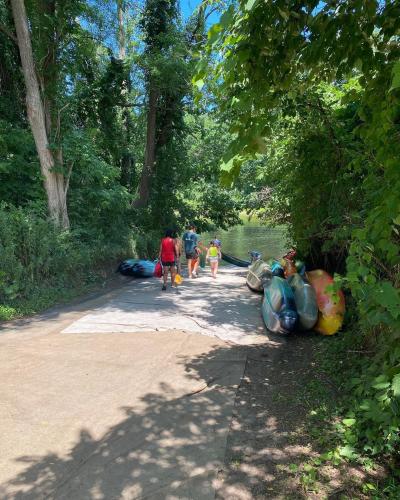 Photo: Collinsville Canoe & Kayak
Spend the Day on the Farmington River Trail
Grab your family and friends and spend the day on the trail! This scenic trail is perfect for biking, running, walking, or skating and will take you throughout Canton and Collinsville (this portion of the trail is roughly 4 miles). If you bring your dog, you can stop by the Friends of Canton Dog Park to rest and relax while your pup makes new friends. And, if you build up an appetite, there are many restaurants and eateries to visit on Route 44 such as Joe Pizza and Dish N Dat. 
Visit Collinsville Canoe & Kayak
If you're looking to try something new or pick up a hobby this summer, Collinsville Canoe & Kayak is just the place for you. Perfect for families, kids, and even dogs, Collinsville Canoe & Kayak always has something going on whether it be kids class or paddleboard yoga. There are many rental options available for kayaks, paddleboards, groups, bikes, and more. View upcoming events, class schedules, and rentals here.
Learn Something New at Roaring Brook Nature Center
Although schools are out, it's still important to keep your children active, learning, and entertained. Roaring Brook Nature Center is the perfect place to spend the day, especially if you love the great outdoors. There's so much to do at the nature center such as go on a scavenger hunt, hike local trails, visit exhibits, and so much more. Every week there are new events and activities for families and visitors, each of them ranging from 1 to 2 hours.
From July 1st to September 5th, all children 18 years old and under are free of charge under the CT Summer at the Museum Program! Learn more about classes, programs, and hours here.
Things to Do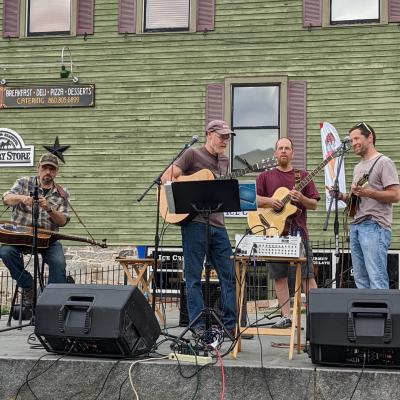 Photo: Shaw Izikson
Take a Pottery Class at Canton Clay Works
Looking to get your hands dirty and learn a new skill set? Take up a new hobby and sign up for a 7-week pottery class with Canton Clay Works! Learn from instructor and artist Tim Scull as you mold, sculpt, and fire your bowls, mugs, vases, and more. 
For over 20 years, Canton Clay Works has served the community as a place for people to gather and learn about the art of pottery and ceramics. Canton Clay Works offers a variety of classes for beginners and advanced students. View the upcoming class schedules and sign up here.
Play a Friendly Game of Mini Golf
Mini-golf is a summer staple here in Connecticut! Matterhorn Mini Golf is a Swiss-themed golf course and ice-cream parlor. As you navigate the 18-hole course, you're immersed in Swiss culture and history. Learn about cheese, chocolate, and even the Hadron Collider as you play with your friends and family.
Matterhorn Mini Golf was carefully constructed with local art and fun interactive decor to keep you entertained at every hole. When you arrive, ask for the "Total Yodel", and you'll receive a mini-golf and ice cream combo! View hours, admission, and ice cream flavors here.
Spend the Day at the Pool
Grab your floaties and sunscreen and join us for a swim at the Mills Pond Pool. Open 7 days a week, the Mills Pond Pool is the perfect place to relax, unwind, and have fun with the family!
While lounge chairs are scattered throughout the pool area, you're more than welcome to bring lawn chairs and blankets and sit by the green. If the kids get hungry, snacks and light refreshments are available for purchase at the front desk. Admission for Canton residents is $5. To view hours and pool rules, please click here.
Have a Picnic and Listen to Live Music
When it comes to music, Canton has so much to offer. Every week you can find live shows featuring jazz, pops, blues, and so much more. 
The Canton Summer Concert Series is in full swing until August 11th. Every Thursday evening from 6:30pm to 8:00pm, there will be live music at the green by Mills Pond Pool. Hot dogs, hamburgers, snacks, and drinks are available for purchase from the Canton Lions Club. View the upcoming lineup of performances here.
If you're closer to Collinsville, the Music on Main series is perfect for you. Enjoy live music every Thursday night and Saturday night from 6:00pm to 9:00pm on the Main Street stage and parking lot. Grab food and beverages from Lasalle Market & Deli and have yourself a picnic! For more information on Music on Main performances, click here.
Looking for more fun things to do this summer? Check out our full list here of family-friendly activities, arts and entertainment, attractions and so much more.
Where to Eat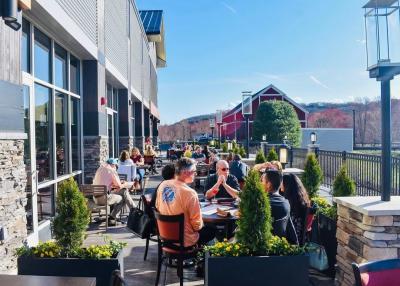 Photo: The Shops at Farmington Valley
Little Oak Cafe
Nestled in the corner of the Canton Village Plaza, Little Oak Cafe is a hidden gem here in the Canton community. Little Oak Cafe is all about American comfort food with an Italian twist. Enjoy everything from breakfast to lunch and even pre-made dinner meals. 
It's hard to choose a favorite item from the menu because everything's delicious! Owners David Borselle and Jeff Fiorino have new weekly specials featuring different sandwiches, soups, pizzas, salads, and more. If you purchase a pizza on Thursdays, you can get another ½ off! Click here to view Little Oak Cafe's menu and hours.
American Flatbread Company
If you're hanging out by Route 44 or visiting the Shops at Farmington Valley, American Flatbread Company is the place to be for craft cocktails, wood-fired flatbreads, and delicious desserts. Whether you're visiting for lunch or having dinner with the family, American Flatbread has something for everyone.
All flatbreads are made with 100% organic wheat and are fully customizable. There are gluten-free options available as well as vegan and vegetarian options for you to choose from. Don't forget to leave room for dessert! It's hard to choose a favorite, but the homemade cinnamon apple crisp is to die for. 
Hungry and ready for a night out? View American Flatbread Company's full menu here.
Saybrook Fish House
What's summer without seafood? The Saybrook Fish House has everything you could think of from crab cakes and calamari to clam chowder and lobster rolls. This truly is seafood heaven! Grab your family and friends and stop by for the ultimate summer feast. There are plenty of seating options available both indoor and outdoor. View the lunch and dinner menus here.
Looking for more great restaurants to check out? Click here to see all the eateries in Canton!