There's no better way to spend the summer in Canton than hanging out by the Farmington River. Whether you're hiking, biking, picnicking, fishing, or kayaking, there's truly something for everyone to enjoy at the river. 
Ever wonder who takes care of the river? It's the Farmington River Stewards! Each year, a new class of assistant stewards joins the Farmington River Stewards program. We're sharing a behind-the-scenes look into the individuals who take care of the Farmington River and are on-site every day to help you as you traverse the river—whether it be on land or water.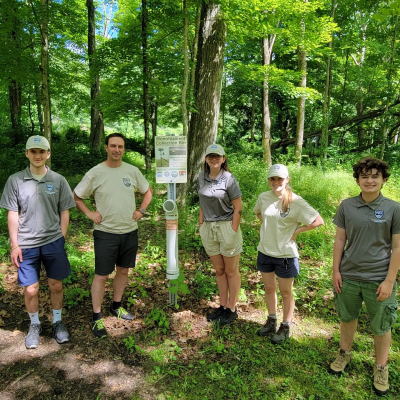 Photo: Farmington River Stewards 
About the Farmington River Stewards Program
It all began in 2014 when a part-time River Steward was hired in the fall to provide summer management and year-round staff support. Eight years later and this program has grown to being an active organization in the community—protecting our river and engaging the visitors and neighbors.
Through education and outreach, the steward team engages river users on the water, at local events, and online. Its mission is to spread a stewardship ethic on the Farmington River. The stewards aim to expand appreciation for the river environment, reduce litter, be a source of information, and help others share in the enjoyment and protection of the river.
Under the supervision of the FRCC, this program runs every summer during the busy months from June through August and continues to grow each year. Oftentimes, river stewards are students pursuing a degree in environmental studies, or just individuals who are really passionate about our environment.
Led by Stephan Bastrzycki, who has managed and grown the continuously active steward program since its start in 2015, the primary focus is on education and outreach to the various user groups that visit the area.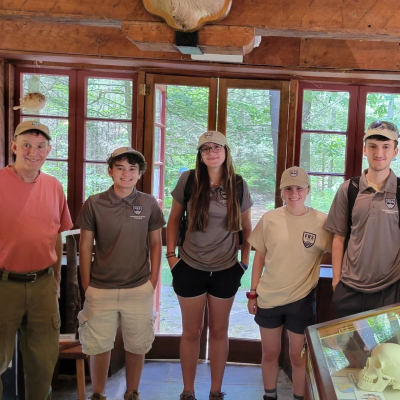 Photo: Farmington River Stewards 
An Introduction to the Farmington River Stewards
We asked each steward what they were studying, why they are passionate about the environment, and what they are looking forward to the most. Here are some of their responses:
Kaye Bellofiore
"Hi! My Name is Kaye Bellofiore and I'm a dual Environmental and Marine sciences major at the University of New England in Maine. I'm really excited to be out here on the river this summer helping in its conservation and I hope to really interact with the public this summer and communicate why the animals and the plants here all contribute to the Farmington River's classification as a National Wild and Scenic river."
Ryan Chaia
"My name is Ryan Chaia. I'm currently a rising junior at the University of Vermont, majoring in Environmental Studies while minoring in History. The reason I chose to study the environment was that I always had great respect for the co-benefits that nature bestows upon us, most importantly the atmosphere that it brings to our day-to-day lives. Through this internship, I hope to strengthen my communication skills by interacting with the residents of the river, answering their questions, and providing feedback to make sure the river is treated with the care it deserves."
Zoe Bates
"Hi everyone! My name is Zoe Bates and I have grown up in Canton, CT my whole life. I am a rising senior at UConn majoring in Psychological Sciences and minoring in Wildlife Conservation, Environmental Studies, and Spanish. Becoming a Farmington River Steward seemed like the perfect opportunity for me because of my passion for working outside and educating others on the importance of protecting outdoor spaces. I have a friend who was a River Steward last year and heard what a great experience it was for him, which made me want to look into the position. I am so excited to be a Farmington River Steward and hope to see a ton of people out on the river this summer!"
Alyssa Masi
"My name is Alyssa Masi and I am one of your Farmington River Stewards for the summer of 2022! I am a rising Junior studying environmental systems and sustainability with a concentration in coastal marine systems as well as a minor in forensic science at Southern Connecticut State University. I was eager to become a steward because I knew that I wanted to make an impact on mine and other communities through our shared love for the environment and river. As a steward, I am able to express the importance of the river's ecosystem processes as well as educate others on how our actions impact it every day, positively and negatively. I am excited to interact with all the regular and visiting rivergoers from fly fishers to paddlers and swimmers!"
Trey Neumann
"Hello, my name is Trey Neumann. I am a local, from Barkhamsted, currently attending Curry College in Milton, Massachusetts. The major I have chosen is Environmental Science. So far being a Farmington River Steward Assistant, I have learned so much about the river and the importance of sustaining our beautiful natural resources. This was the main reason I took on this job and I look forward to keeping our river clean and safe for those who want to enjoy it."
Donna Bastzycki
"Hello, I am Donna Bastrzycki. I have been a volunteer with the FRCC River Steward Team since 2015. I have been in the Recreation field for over twenty years working as the Director of Special Programs for the Town of Suffield and the Director of Recreation for the Town of Barkhamsted for the past eight years. I love our Wild and Scenic Farmington River and enjoy helping to incorporate many collaborative events and programs with the Steward Team along with Barkhamsted Recreation Department. I hope to see you and your family out on the river and at upcoming events!"
Get Involved Today
Spend the summer at the Farmington River! The River Stewards are always hosting events whether it be a clean-up day, family-friendly activities, an educational series program, or Junior River Ranger events, there's something for everyone to enjoy. Learn more about upcoming events here.
If you'd like to get your hands dirty and help protect the Farmington River, apply today to become a River Steward. Applications are available here. Stay up to date with the latest from the stewards and their daily activities on Instagram.