There's so much to explore and discover in Canton, especially in the fall. Whether you enjoy hiking and admiring the orange and yellow hues of the fall foliage or spending the afternoon listening to live music with family and friends, there's always something to do in Canton. We're highlighting a handful of upcoming fall events you need to know about. So mark your calendars for a fall of fun! 
Music on Main—Saturday Nights until October 1st
Music on Main, a beloved annual event that celebrates our local artists and musicians, continues strong for the season! Join us at the Main Street Stage & Parking Lot (104 Main Street, Canton CT) every Saturday from 6:00pm-8:30pm for a relaxing evening of live music, good weather, and great company.
Bring a lawn chair or blanket and enjoy a variety of musical performances each week such as jazz, rock, and blues as we near the end of this year's Music on Main series. Grab dinner and snacks from Lasalle Market and Deli or Crown and Hammer Restaurant & Pub.
View the upcoming performers and get ready for a weekend of fun! Click here to learn more about Music on Main.
Collinsville Celebration—September 15th-17th
There's so much to celebrate in the town of Canton from local artists to family-friendly activities. The Collinsville Celebration starts on Thursday, September 15th, and runs until Saturday, September 17th. On Thursday and Friday, enjoy a video presentation by David Leff from 7:00pm-9:30pm called Two Villages. This video will be streamed at the Canton Community Center and highlights Collinsville's past and future through storytelling and humor.
Saturday, September 17th is going to be a jam-packed day with events happening all day long! The Canton Arts Council is having a festival from 11:00am-3:00pm with local art displays, activities for children, food, entertainment, and more. The Canton Historical Museum is celebrating Sam Collin's birthday from 10:00am-4:00pm with food, music, storytelling, a scavenger hunt, and so much more. If you're into a good read, stop by the Million Page Reading Celebration at the Canton Public Library from 10:00am-4:00pm. There will be live music, food, family-friendly activities, and plenty of new books to check out. 
Grab your family and friends, and join us for a 3-day celebration of local history, art, and more. Be sure to tag us on social media and show us how you #makeitcanton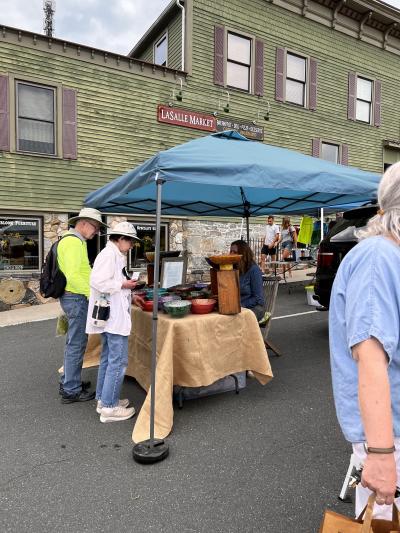 Canton Main Street Farmers Market—Every Sunday until October 16th
Pumpkins, fresh apple cider, and seasonal baked goods—what else could you ask for? The Canton Main Street Farmers Market continues, but this time, with fresh seasonal fruits, vegetables, and local goods. Grab groceries for the week and support local farmers and businesses at the Canton Main Street Farmers Market every Sunday from 10:00am to 1:00pm. Every Farmers Market has live music and over a dozen local vendors to shop from. 

Although the last farmers market of the season is on Sunday, October 16th, you have plenty of time to enjoy our lovely fall weather and seasonal goods. A few of our favorite items are fresh eggs from The Cow's Coop and pure maple syrup from Lamothe's Sugar House. Tag us with your favorite goods from the farmers market on Instagram @makeitcanton for a chance to be featured on our page!