With summer right around the corner, we can't help but get excited about all the outdoor activities and events happening in Canton. Whether you're visiting for the day or a longtime resident, there are many family-friendly, dog-friendly activities you can participate in. We're sharing all the great places to visit, eat, and play with your four-legged friend!
Get Adventurous & Get Outside

Photo: Katsoucy
There are many outdoor trails and activities to do in the spring and summer with your dog. If you're into adventure, visit Collinsville Canoe & Kayak. It's the perfect place to spend the day with your family, friends, and pup. If a calm and scenic environment is more of your vibe, take a hike or bike the Farmington River Trail. 

Petals & Paws is a great place to spend the day. This unique pet and garden place has everything from outdoor lawn accessories and plants to dog treats, accessories, and pet grooming. The best part about Petals & Paws is that they have ice cream available on-site from The Canton Creamery.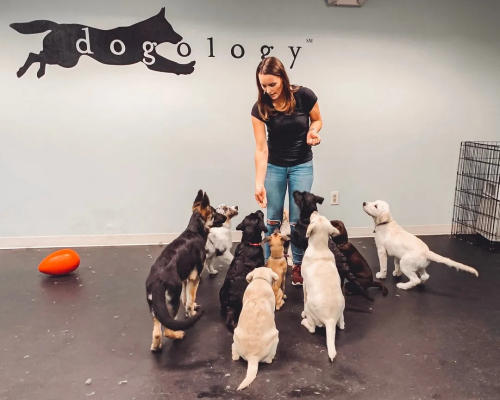 Photo: Dogology
Make sure to stop by Dogology and visit the puppy playground! The Puppy Playground is hosted every Saturday from 8:00 AM to 9:00 AM for puppies ages 10 to 24 weeks. This playgroup is hosted to help with socialization and introduce your puppy to a new environment. Other than the Puppy Playground, Dogology has an array of dog treats, toys, and accessories. Learn more about classes, hours, and events here.
Spend the Day at the Park

Photo: Friends of Canton Dog Park
The Friends of Canton Dog Park is the perfect place to spend the day with your pup. This dog park recently opened up in 2020 and has been a staple in the community ever since. It's spacious and fenced, with separate areas for large and small dogs. There are also benches and picnic tables throughout the park for dog parents and families to relax. Throughout the park there are many trees, making it a perfect place to hang in the shade on a warm sunny day. The Friends of Canton Dog Park is located right by the Farmington River Trail, so you can always hike or stroll to the park.
Please note: no dog toys or outside equipment is allowed. Dogs must enter and leave the park on a leash, and a watering station is not available yet so you must bring your own water. The town of Canton is installing a water fountain late spring/early summer, so be on the lookout!

Be sure to follow the Friends of Canton Facebook page to learn more about events in the community and park updates. If you get hungry after, stop by Little Oak Cafe for a treat. They're located just minutes from the park.
Grab a Bite at a Local Restaurant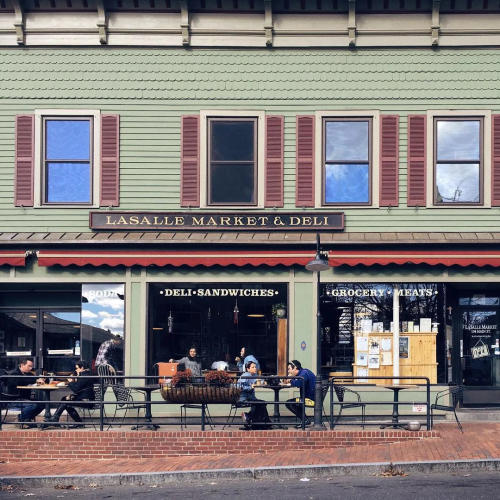 Photo: Lasalle Market & Deli
Visit one of our dog-friendly restaurants and grab a bite on the patio! Many of our eateries have spacious patios and shaded areas for you and your pup to cool down. A few of our favorite dog-friendly restaurants are Lasalle Market & Deli, Canton Flatbread Company, and Joe's Pizza. 
Sweets for You and Your Dog
Check out Canton's newest dog-friendly business, Woof Gang Bakery located at the Shops in Farmington Valley is set to open May 16th! This bakery and grooming parlor not only has the cutest dog accessories and toys, but they have also freshly made dog treats available daily.

End the day with a treat from Ben & Jerry's. The ice cream shop carries an array of ice cream treats that are dog-friendly. So you can grab your favorite ice cream and share the love with your furry friend.
However you spend the day with your furry friend, show us how you #makeitcanton on social media for a chance to be featured on our page!