Roaring Brook Nature Center is one of the many treasures that can be found in the town of Canton! It is the perfect place to visit if you enjoy hiking, educational programs, or have children who enjoy nature, animals, and being outside. Roaring Brook hosts many events and programs throughout the year. The center's 165 acres of property features sprawling hiking trails, native wildlife, 150+ different species of birds, and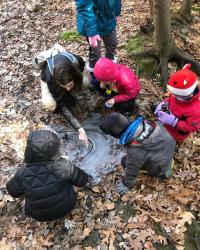 more. 

With a year-round schedule of educational programs and activities for all ages, there's no shortage of fun and learning to be had at Roaring Brook! From week-long experiences during school vacations and Discovery Days offered to kids throughout the school year to lecture workshops and other programs geared for adults, there's an endless amount of activities at the center throughout the year. Roaring Brook is also a great place for school field trips, birthday parties, or scout programs. 

Many visitors attend the seasonal nature walks offered at Roaring Brook. These walks are offered year-round and are themed depending on the time of the year— choose from fall foliage strolls, winter excursions by snow show, Moonlit night walks, early morning bird walks and more!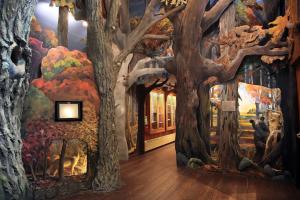 The nature center's facility also houses many walk-through dioramas that are focused on wildlife and nature. Exhibits include an Eastern Woodland Native American longhouse, a Beaver Wetland exhibit and a Changing Land / Changing Wildlife exhibit. Visitors to the center also will have the opportunity to visit and learn about a variety of live animals as well as observe birds of prey that live outdoors throughout the grounds. 

Be sure to check out the Roaring Brook Nature Center website to stay up to date on all of their upcoming events!