This week's Business Spotlight features another popular spot in Collinsville, MamaBear Organics! Owned by Jess Altro Santucci, MamaBear Organics sells her own line of organic skincare products and bath bombs, along with other natural beauty and wellness products as well as toys, games, books, crafts and more!

Jess started MamaBear Organics after trying at length to find a product that would help treat her family's dry, sensitive, eczema-prone skin. Dozens of commercial lotions, ointments and other products later, she realized that not only did none of the products she tried provide any real results or long-term relief, the ingredients in the products weren't great either. 
 
That's when the MamaBear Organics line was born — after researching and experimenting, a line of skincare products emerged — without GMO's, toxins, chemicals, synthetics, petroleum, petroleum by-products, fillers, bleaches, fragrances or artificial preservatives.  With products like sunscreen, insect repellent, nursing salve, eczema care products and more, these honest-to-goodness products are as organic and natural as it gets. Pro tip: if you can't make it to the store, you can buy many of their products online!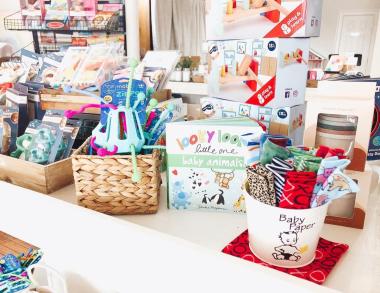 When you walk into the MamaBear Organics shop, located right on Main Street in Collinsville, you'll notice that not only is Jess passionate about what she puts into her ingredients, she's also passionate about how they look. With an eye for design and merchandising, the MamaBear Organics store is a beautiful place to browse. The homemade bath bombs are works of art — some are so pretty that you'll almost second guess dropping them into your bath water and watching them melt away! The shop also sells unique toys, books, apparel, candles and greeting cards, making it a perfect place to buy gifts at during the holidays or for a birthday. 
MamaBear Organics also hosts events throughout the year geared at families with young children. Recently, the shop has held a "How-To Charcuterie" event, a DIY Bath Bomb Party and a pop-up for Two Cute Cookies — many of these events also promote other local Canton/Collinsville area businesses.