Nestled in the corner of the Canton Village Plaza, Little Oak Cafe is a hidden gem here in the Canton community. Little Oak Cafe's mission is to provide visitors with something more than great coffee. The cafe brings people together over homemade comfort food and delicious pastries. 

Local Ingredients and Great Tasting Food Made by Locals
Owners David Borselle of Farmington and Jeff Fiorino of New Britain are passionate about great food, great service, and being supportive of our local farms and businesses. Borselle and Fiorino met at Park & Oak, an American restaurant formerly located in West Hartford. After four years in business, Park & Oak closed due to the pandemic. Chef David Borselle knew he wanted to continue cooking, and that's where Little Oak Cafe was born.

Little Oak Cafe Menu
Little Oak pays homage to Park & Oak with American comfort food and Italian-inspired dishes such as eggplant parm and wood-fired pizza. The menu features traditional breakfasts, sandwiches, panini, wraps, salads, and more. Everything is made fresh in-house, from the pasta to the eggs in your omelet. Chef David Borselle's chickens produce eggs for the cafe, while local farms and businesses supply other products and ingredients.
No item on the menu takes more than 10 minutes to prepare, making it easy for visitors to grab breakfast or lunch for work. Take-out is available as well as pre-made dinner meals such as lasagna and chicken parm that customers can easily grab from the fridge and go.
The best part about Little Oak Cafe? The pizza! Pizzas are cooked in a 900-degree wood-fired oven and are made in individual slices. Pizza is available from 12-close Tuesday through Sunday. On Thursdays, you can buy a pizza and get another ½ off.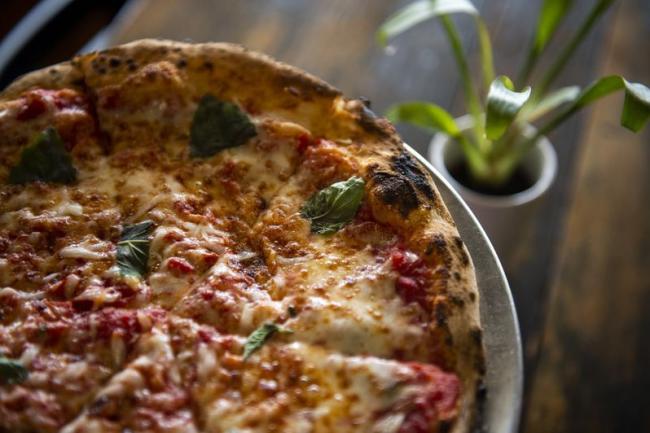 Make sure to follow Little Oak Cafe on Facebook to learn more about their daily specials. You can also view their menu here. The cafe is open Tuesday through Sunday with extended hours on Friday.