LaSalle Market and Deli is the culmination of all the things that make Collinsville tick: great food, rich history and a quirky atmosphere. LaSalle has been a staple in the Collinsville & Canton community for decades. The building itself, a bright sage-green adorned with maroon shutters and awnings is an iconic sight in the downtown area. Over the years, it has continued to be a destination for Canton and Collinsville residents along with out-of-town visitors alike. Many flock to the area on weekends to browse local shops, explore the historic Main Street and head over to LaSalle for an afternoon lunch.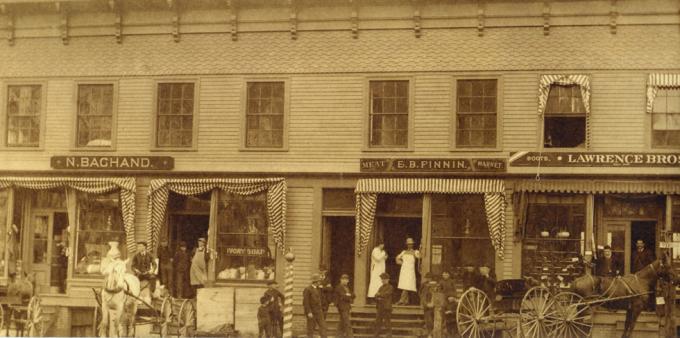 Back in its early days, LaSalle was first known as Keney Market, a traditional small grocery store that served breakfast, deli sandwiches, donuts and candy which you could purchase along with a local newspaper of your choice. Later on, its name changed to LaSalle after a family member from LaSalle Market of West Hartford purchased the business. Over the years, the market changed hands a couple more times as it transformed from a grocery store into more of a full-service restaurant, expanding its menu and eventually offering a full-fledged catering service as well.
Today, you'll find that LaSalle Market is almost constantly abuzz every day it is open  — especially on weekend afternoons during the spring, summer and fall as the Farmington River Trail runs right through the town of Collinsville. Many will hop off their bikes and stop by LaSalle for a quick bite before continuing on their journey. LaSalle's atmosphere is welcoming and eclectic and its decor makes use of its rustic and historic roots, giving it a cozy ambiance that feels like home. 
Come often and you'll start to notice many of the regulars that go there daily —  Collinsville's small town charm is part of what makes spots like LaSalle's so enticing. Offering both breakfast and lunch options, their menu has a little something for everyone. Breakfast items include a variety of egg sandwiches, french toast and pancakes, omelettes and more. Their lunch menu has a huge selection of sandwiches, wraps, salads, soups and even pizza. Their entire food menu is so huge that it'll take you many visits to eat your way through it all but we promise you, it's well worth it! 
LaSalle also offers an amazing catering menu that is flexible and can accommodate virtually any type of event or celebration that you are hosting. From platters and garden parties to formal sit down dinners and everything in between — LaSalle Market & Deli has got your next event covered.