If you're looking for the cutest place to shop in Canton, Connecticut, we've got just the place for you. Kindred and Crew is a boutique clothing store that specializes in matching sets for the family. Located at the Shops in Farmington Valley, Kindred and Crew has something for everyone (including your dog)!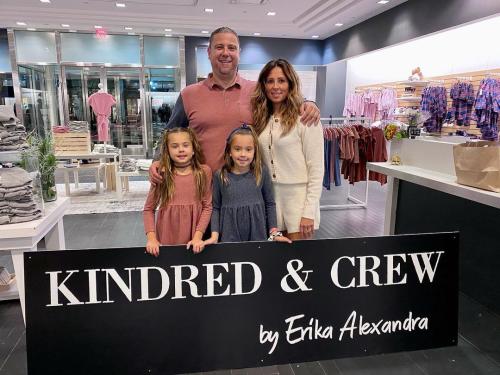 Photo: Kindred and Crew
Founder Erika Gawitt started the business because of her passion for fashion and coordinating with her twin daughters and husband. Everywhere the family went, they would get compliments on their clothing and questions about where they got their outfits. "We would just do our daily things like head to a library class or lunch dressed in matching/ coordinating outfits and strangers would smile and compliment us. Some even asked to take our picture. It wasn't until then that I realized it made other people smile too" says Erika.
More than Just Clothing
What makes Kindred and Crew so special? They cater to everyone in the family. You can purchase a onesie for a newborn and a matching t-shirt for yourself. There are also items for puppies and full-size dogs—that way everyone in the family is coordinating. Kindred and Crew also offer a variety of accessories and home decor items.
Every item that's featured in the store is hand-selected by Erika herself. She prides herself in working with brands that are also family-owned and operated and do good for the environment and their employees. For example, the handbags are made by Colombian natives that are given fair wages and opportunities to make a suitable income for their families. "I have taken the time to meet with the designers or their assistants to get to know each brand and its story", Erika says. She feels very connected to the brands she works with because they all bring something different to Kindred and Crew.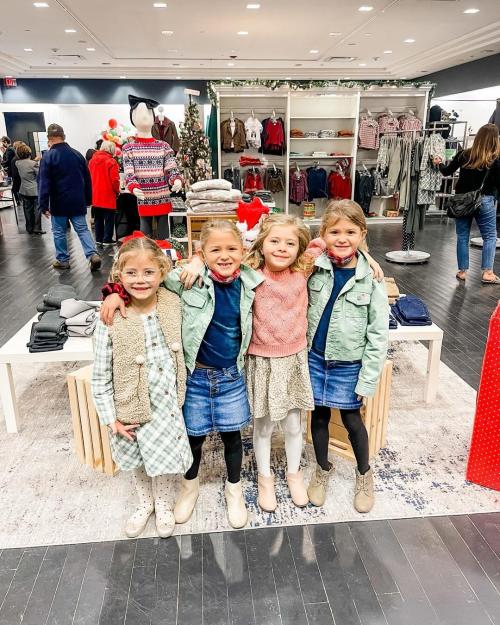 Photo: Kindred and Crew
Look Good While Supporting the Community
Kindred and Crew is an active member of the Farmington Valley/Canton community. Every year they host special events to highlight other businesses or bring families together. In the past, they've done events like kids yoga, book readings with a local author, holiday pop-ups, and donation drives to local organizations.
On April 30th, Kindred and Crew is hosting a special event for families. Learn more and RSVP to this event here. Stop by the shop with your family and dog and get your pictures taken by a local Canton photographer. While you're at the Shops, feel free to grab an ice cream at Ben & Jerry's.
For more information on events and store hours, please visit the Kindred and Crew Instagram. To shop matching outfits for you and your family, visit the Kindred and Crew website.