Canton is home to so many great options for breakfast! If you're a fan of diner food with a retro flair, DISH 'n Dat is the place for you. Located on Albany Turnpike, DISH 'n Dat is designed like a diner from another time, decked out with brightly-colored booths and carpeting, posters of vintage ads and records on the walls, it's a charming step back in time that has an expansive menu with modern, delicious food offerings.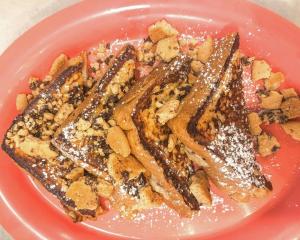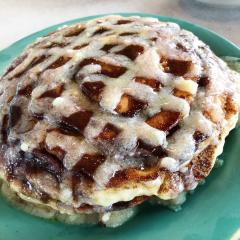 Open for breakfast, lunch and dinner, the DISH 'n Dat menu offers something for everyone! If you're an all-day breakfast lover, you're in luck. Get unique breakfast items like Cinnabon pancakes or cookie dough stuffed french toast and diner classics like Southern-style biscuits and gravy and steak and eggs at any time of the day. 
Not in the mood for breakfast? DISH 'n Dat has way more to offer. Choose from classic starters and appetizers like scratch-made soups, chicken wings, french fries and salads. Build your own burger or choose from one of their specialty burgers like the Day After Thanksgiving Burger that features a ground turkey patty, topped with stuffing, gravy and cranberry sauce. Mix it up and check out the Baja-style tacos or the Mac and cheese sections of their menu. DISH 'n Dat keeps it interesting. 
They also offer Family Meals that are available for pick-up if you're not in the mood to cook dinner. For $50, you can pick up an appetizer, an entree and 2 side dishes — for an extra $15 each, you can add on desserts like apple fritters, a cast iron cinnamon roll or 32 oz. of fresh made margaritas. DISH 'n Dat is also a great spot to throw a party or host an event and they even have a catering menu so you can bring their great food to you.