Weekends in Canton are best spent in the great outdoors! There's no better way to enjoy our beautiful scenery than to spend a summer afternoon on the water. If you're looking for a new hobby to try or a fun activity for the family, look no further than Collinsville Canoe & Kayak.
Collinsville Canoe & Kayak is located on the Farmington River, near the heart of downtown Collinsville Connecticut. This family-owned and operated business is open all summer long and offers a variety of water sports gear and outdoor classes for people of all ages to enjoy.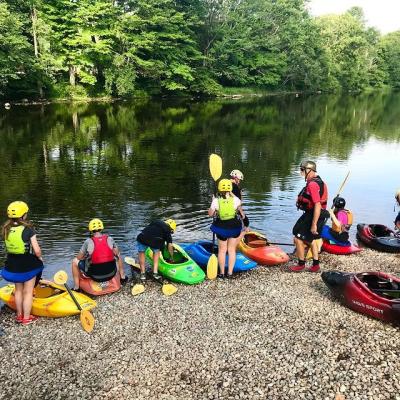 Photo: Collinsville Canoe & Kayak
Family Fun for Everyone
Collinsville Canoe & Kayak has classes for children ranging from 7-15 and adults of all ages with classes starting at $59. Many classes do not require previous paddling experience, making this the perfect activity for anyone to enjoy! You can even bring your dog to join you for a day out on the water. All week long there are paddling classes, canoeing classes, kayaking classes, and paddleboard yoga classes available. While class size is kept to a minimum (to ensure safety), there are always new class schedules being added into the mix. Check out upcoming classes here.
Explore The Outdoors
If you'd like to venture beyond the Farmington River and need additional gear, there are on-site and off-site rental options available. Choose from a variety of recreational kayaks, canoes, two-person kayaks, paddleboards, and even bicycles! 
Paddles, flotation devices, and helmets are provided with rentals so you don't need to bring anything other than a water bottle and comfortable clothing and shoes. Collinsville Canoe & Kayak is right next to the Farmington River Trail making this the perfect place to spend the day on or off the water. With your bike rental, you can easily hop on the Farmington River Trail and make your way through Collinsville and Canton.
If you build up an appetite, be sure to check out a few of our local restaurants for a post-canoe bite!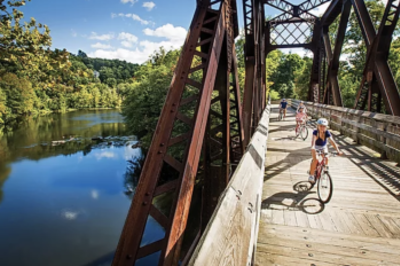 Photo: Collinsville Canoe & Kayak
An Evening to Remember
If you're looking for a truly unique experience, you've got to sign up for an evening sunset paddle! Spend the evening watching the sunset and taking in the beautiful scenery as you paddle through the river. This experience is relaxing and great for beginners (especially if you're looking to hang out on the water and watch the sunset). 
Don't miss out! The last date available to view the sunset during the peak season is Friday, September 2nd. Learn more and sign up here.
Collinsville Canoe & Kayak is open Monday through Friday from 10:00am to 6:00pm and until 5:00pm on the weekends. To learn more about classes, rentals, and outings, please visit the Collinsville Canoe & Kayak website.