If you love farmers markets but don't want to wait once a week, look no further than Applegate Farm Market! For over 30 years, this family-owned and operated business has served the Canton community with fresh, organic ingredients and local artisanal goods. 
In 2021, the farm stand relocated to the Canton Village Shopping Center. Applegate Farm is a year-round market that sells a little bit of everything, literally! From farm fresh produce and dairy to locally sourced baked goods, Applegate Farm Market is the perfect place to shop for your everyday essentials. 
What's really unique about Applegate Farm Market is that it's a one-stop shop for Canton residents and visitors to support small businesses. The owner Karen prides herself in curating a place that caters to her customer's needs.
"Fresh From Our Garden to Your Plate"
Applegate Farm Market is all about bringing fresh and local produce to Canton residents and neighbors. Every week you can find a variety of apples, lettuce, peppers, tomatoes, squash, and potatoes from Applegate Farm as well as cheese, yogurt, and eggs from local dairy farmers.
Not only does Applegate carry seasonal vegetables and fruits but they make and sell their own jams, sauces, dressings, and prepared foods. You can find homemade soup, BBQ sauce, local honey, maple syrup, and additional canned goods. The market also sells coffee and has an ice cream bar!
While you're shopping, satisfy your sweet tooth and grab an apple cider donut or cinnamon bun. Applegate Farm Market freshly bakes all their pastries in-house with ingredients from the farm. During the holiday season, Applegate Farm Market carries over half a dozen different pie flavors like apple, blackberry, and peach.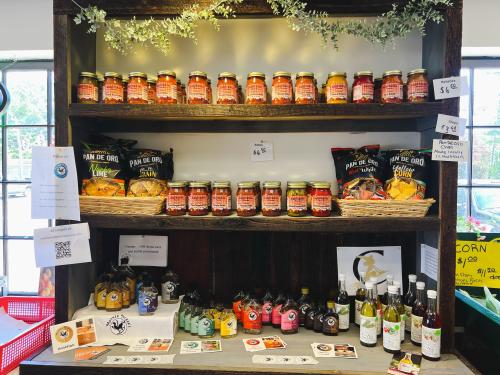 More Than a Market
Applegate Farm Market is truly a unique shopping experience. This family-owned business is an active member of the community—constantly supporting and selling goods from other small businesses like Hartford Baking Company from West Hartford, Mother Tucker's Simple Syrups from Canton, and Michaud's Pasta Sauce from New Haven.
The market is constantly changing its goods and products to keep up with the season. In the fall, you can find pumpkins, corn stalks, mums, fresh cider, and all your favorite goodies and treats. In the spring and summer, the market flourishes with flowers and plants from local nurseries.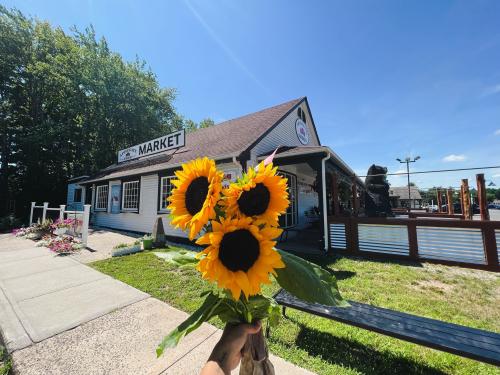 Don't miss out on the latest from Applegate Farm Market! Be sure to follow them on Instagram to see this season's bounty. If you can't stop in, curb-side pick-up is available through the drive-thru window. Applegate Farm Market is open daily from 9 to 6 with extended hours on Fridays and Saturdays.

Click here to view the market's products and place your order today!